(This post contains affiliate links.) Most people looking to buy a thick yoga mat are no doubt doing so for increased comfort, especially for their knees and wrists. You may want a thick yoga mat because you have arthritis or carpal tunnel syndrome, or maybe just because you are skinny with bony knees like me!
Personally, I'm all about comfort in Savasana, so a thick yoga mat is a little luxury I enjoy, especially when practicing at home. I would also recommend a thick yoga mat if you enjoy sound baths, yoga nidra or restorative yoga where any discomfort could be distracting and may spoil the experience.
Most yoga mats are just 4mm to 5mm thick and, despite the demand, a thick yoga mat can be hard to find. Here's my pick of the best thick yoga mats available…
This is my favourite yoga mat! Although it seems a little pricey, it's the only yoga mat you will ever need as it's extremely resilient and guaranteed to last a lifetime. It will never peel, flake, or fade.
The Manduka PRO yoga mat is 6mm thick with high density and cushioning. I find the cushioning and support to be enough that I don't require any additional padding for my knees, and yet the mat is firm enough that the flow of my practice is not affected and my joint stability is not challenged (which could, of course, lead to pain or injury).
The Manduka PRO yoga mat comes in two lengths, 71″ and 85″, and in a variety of colours.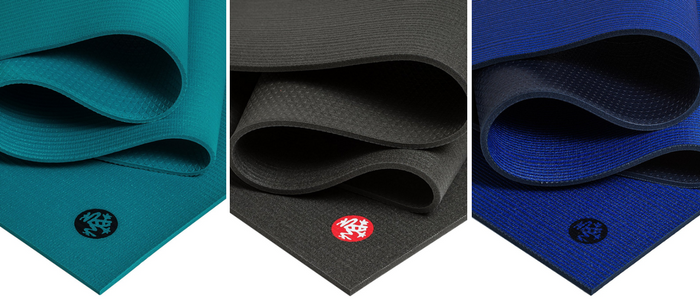 The Manduka PRO yoga mat has a closed-cell surface which prevents sweat, dirt and smells from absorbing into the mat and also makes it easy to clean. This does mean, however, that sweat can cause it to become slippery. There is also a dot-pattern on the bottom of the mat which prevents the mat from sliding.
The Manduka PRO yoga mat is made from eco-certified safe PVC. It is non-toxic (specifically phthalate free), 100% latex free, and is environmentally friendly with an emissions-free and zero-waste manufacturing process.
The Pogamat XXL is twice as wide as a typical yoga mat, an extra 25cm long, and a very comfortable 7mm thick. The grip and traction that this mat offers are incredible and the quality is excellent.
Admittedly, the size of the Pogamat XXL does make it less portable and less suitable for using in yoga classes where space is limited, but it is ideal for partner yoga and when practicing at home you will quickly become spoilt by the freedom of movement that the extra space affords you.

The Pogamat XXL is made from premium high density eco-friendly PVC and contains no latex or silicone. It is odor-free and phthalate-free, and is made with eco-friendly manufacturing techniques.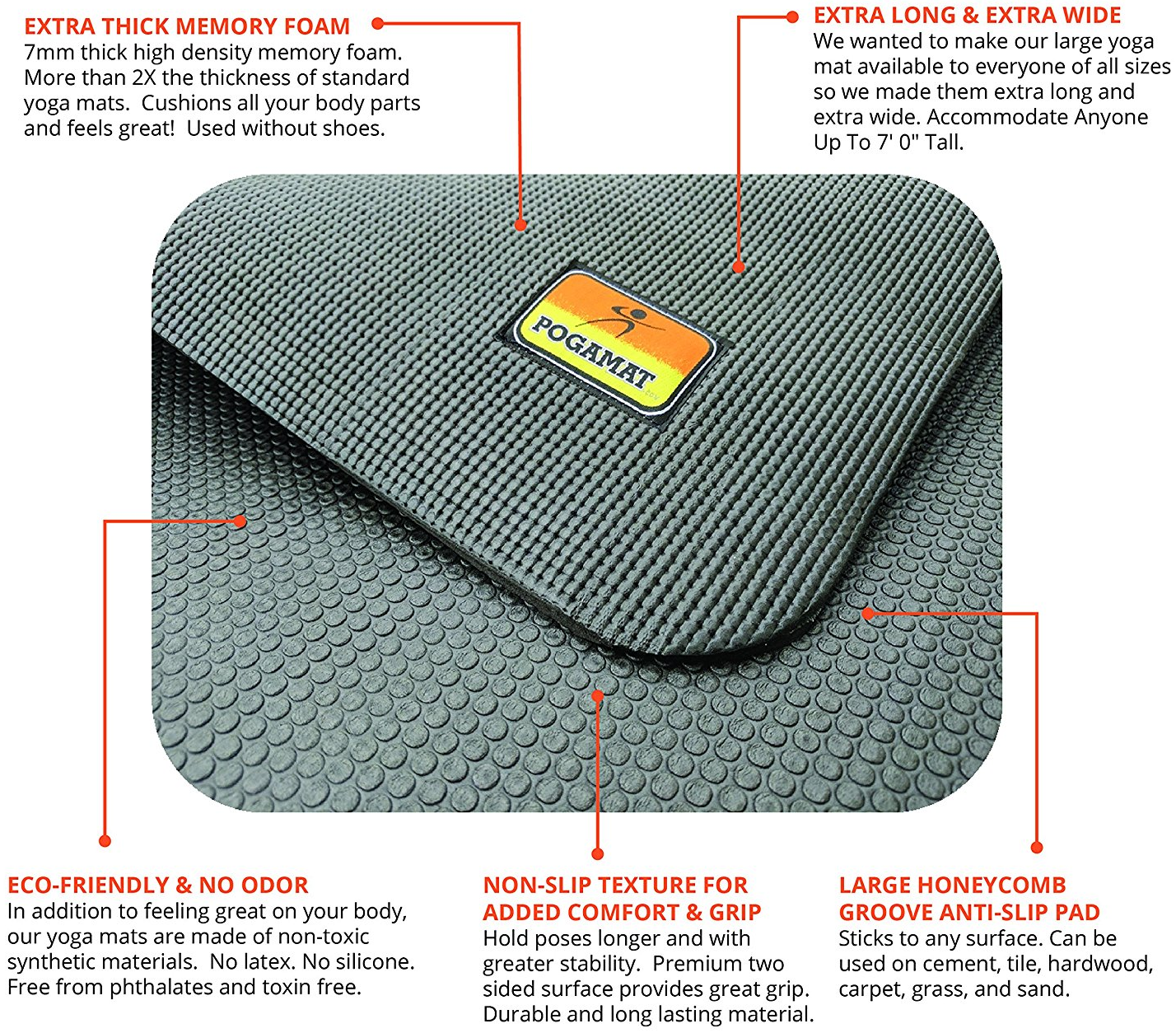 Marketing itself as 'nature's best yoga mat', the Fusion Mat is made in the USA, combining natural rubber from the Far East with modern technology. Natural rubber is a renewable resource and contains no ozone-depleting substances, PVC, EVA or other synthetic plastics or rubbers. Plus, through its partnership with Trees for the Future, JadeYoga plants a tree for every mat sold.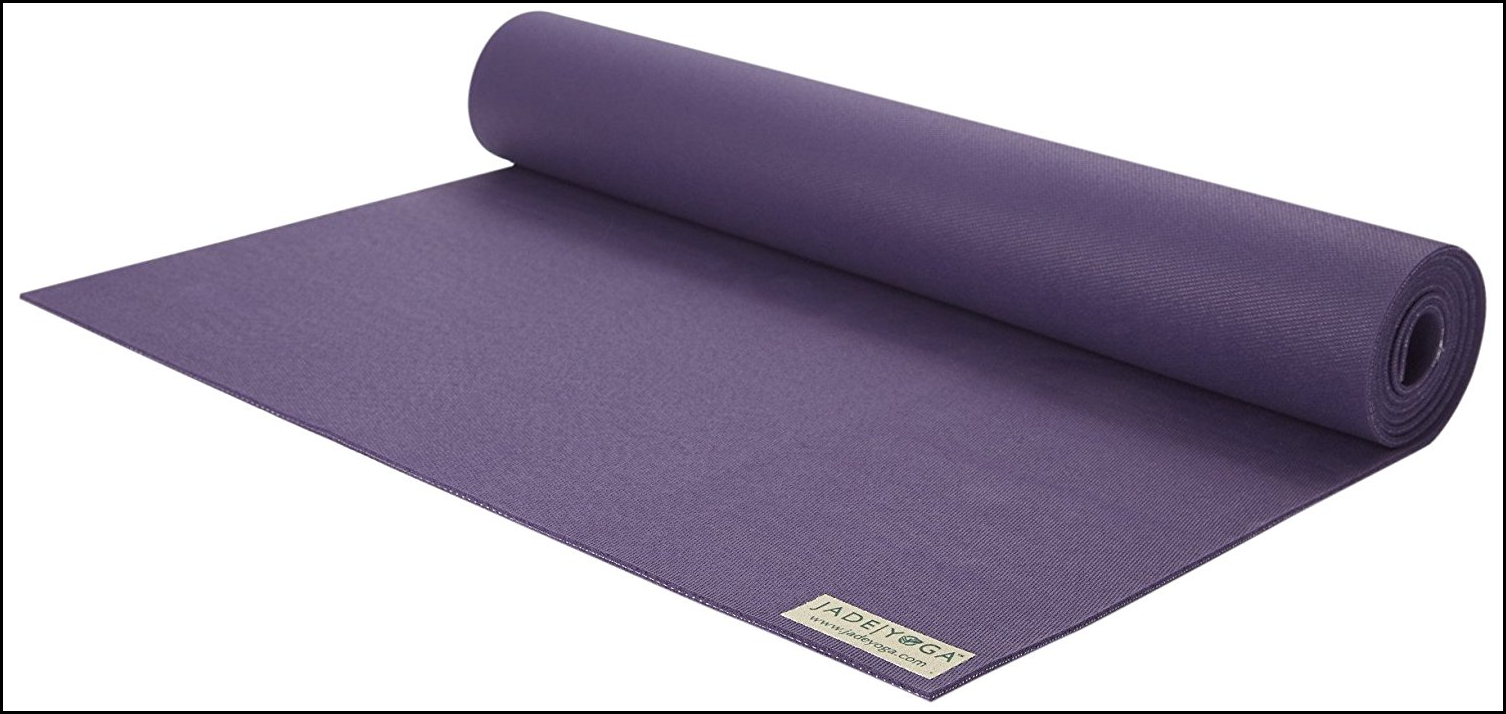 The Fusion Mat is both thick and firm, providing all the support and cushioning you need – the perfect balance of comfort, performance and resilience.
Because the Fusion Mat is made with open-cell natural rubber, moisture is absorbed and the grip is fantastic – even when wet with perspiration! Of course, the downside of this is that the mat will need frequent cleaning.
Of course, there are some downsides to a thick yoga mat. Balance poses will be somewhat more challenging and it may be harder to maintain an equal pressure through both palms, knees or feet. A thick yoga mat will also be heavier to carry and may not fit in your mat bag.
One alternative to a thick yoga mat may be Yoga Jellies. These are flexible discs which can be placed wherever you need them to provide cushioning. Most commonly they are placed under the knees and wrists.
Do you use a thick yoga mat? Or have you tried Yoga Jellies? Please leave a comment and let me know.