(This post contains affiliate links.) I have been buying books faster than I can read them for a long time now and, of those that I have read, I have forgotten a lot. So, I have challenged myself to read (or re-read) every single one of my spiritual books. As I show you my bookshelves, you'll appreciate the enormity of the task!
In my bedroom I have a bookcase entirely devoted to spiritual books. Along with a number of large amethyst and rose quartz crystals, it helps to make my bedroom a real feel-good space for my soul.
Incidentally, a year or so ago I thought the word shelfie was my own invention, but a quick search now reveals that Google doesn't agree! 😯

Let's delve in…
In Face to Face with Life: Pathways from Struggle to Freedom, Mansukh Patel tells his life story and how the sacred indigenous teachings of his own parents became the basis of Dru Yoga and the original Life Foundation, both of which have been a big part of my life.
For anyone with even the slightest interest in the Bhagavad Gita, I can't recommend the Dru Bhagavad Gita books and DVDs more. There are 3 books and 5 DVDs which present the Bhagavad Gita absolutely beautifully with translations, meanings, inspirational stories and practical applications. The observant among you will notice that one of the Dru Bhagavad Gita books and one of the DVDs is missing. My mum is borrowing them at the moment, and so far she's enjoying them just as much as I did. As I have said before, I would also love to do the Dru Bhagavad Gita online self-mastery course.
In Anatomy of the Spirit: The Seven Stages of Power and Healing, Caroline Myss unifies diverse spiritual and religious beliefs – Christian sacraments, Hindu chakras and the Kabbalah's Tree of Life – and we learn how emotions, psychological stress, beliefs and attitudes can influence our physical body and explain why some people do not heal and why we often find ourselves in difficult circumstances that never seem to change.
Jonathan Livingston Seagull by Richard Bach is a fable about seeking your higher purpose in life, not compromising that vision and fulfilling your true potential. It's a quick read, but a life-changing one.
In Balancing Your Chakras, Sonia Choquette's writing style is enthusiastic and easy to read. She inspires us to balance our chakras in order to improve our everyday life, health and wellbeing, all through practical exercises.
Then, we move along to some of the Law of Attraction material that I own by my favourite writers on the topic, Esther and Jerry Hicks, who present the teachings of the nonphysical entity Abraham. I have The Vortex in paperback format, The Teachings of Abraham: The Master Course CD Programme (recordings of workshops which took place during one of Esther and Jerry Hicks' cruises) and The Law of Attraction CD Collection (which includes the audio version of their books Ask & It Is Given and The Basics of the Teachings of Abraham).
Dru Yoga for All Seasons was written by two of my favourite tutors on the Dru Yoga Teacher Training Course (which I completed between the years of 2002 to 2006 in London) – Padma McIntyre and Dr. Helena Waters.
Next we have two Indian classics, both by Shree Purohit Swami: The Ten Principal Upanishads and The Geeta. I bought these in India back in 2005 and it was while reading them outside a bar one night that I met a new friend who introduced me to brainwave entrainment.
The Reiki Sourcebook is a very comprehensive reference book which came highly recommended by the Reiki Master who I did my Usui Reiki Masters course with.
In Change Your Thoughts, Change Your Life: Living the Wisdom of the Tao, Dr. Wayne W. Dyer has written 81 brief chapters, each focusing on one of the 81 verses of the Tao Te Ching and how to apply the ancient wisdom of that verse. This is an ideal book to read on waking, one chapter a day.
Along the front of the shelf, I have my Tarot of a Moon Garden tarot cards in a pretty box to the left, removed from their packaging and wrapped in a purple silk cloth inside the box. I absolutely adore the images on the cards and I knew immediately I saw them that that was the deck for me. To the right are two sets of angel cards: The Angels of Light Cards by Diana Cooper and Daily Guidance from Your Angels Oracle Cards by Doreen Virtue.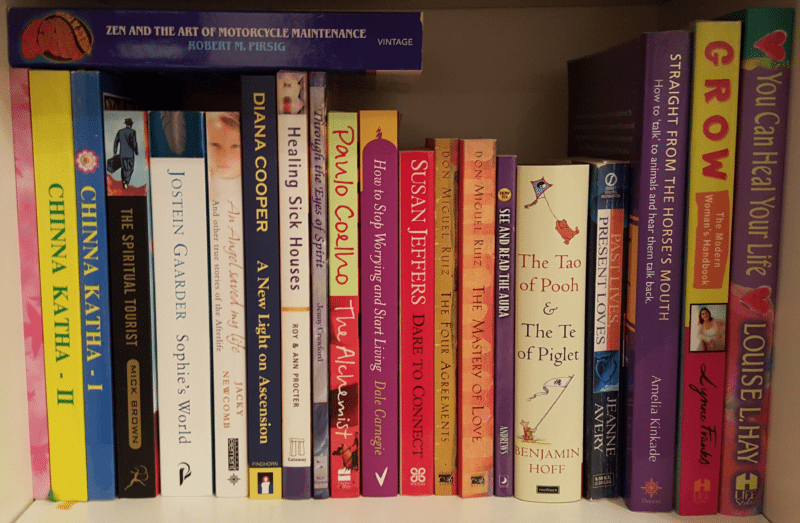 I bought Chinna Katha: Book 1 and Chinna Katha: Book 2 whilst staying at Sai Baba's ashram in Puttaparthi, India. They each contain a collection of his short stories which will appeal to adults and children alike, each of which conveys a profound message. I find they are ideal for reading to participants at the end of a yoga class and it's usually possible to find one to complement the theme of the class.
In The Spiritual Tourist, Mick Brown travels the world in search of the divine, investigating miraculous signs and famous names such as Madame Blavatsky, Mr Creme and Sai Baba. He even discusses reincarnation with the Dalai Lama. Mick Brown is sceptical but open-minded and, whilst I don't always agree with his conclusions, it is an entertaining and informative book that I would wholeheartedly recommend.
Sophie's World by Jostein Gaarder is a popular classic. It is a journey into history, philosophy and self-discovery which leads us to ponder the big questions in life such as "Who are you?" and "Where does the world come from?" and yet, despite it's depth, the unique way in which the story blends in mystery and fantasy makes it delightfully engaging.
I love all of Diana Cooper's books but A New Light on Ascension is one of my favourites and the only one of her books that I actually own. I'm really looking forward to re-reading this one. I would warn you that it's a little 'out there' but I think that can probably be taken for granted with the majority of the books on my shelves!
Healing Sick Houses: Dowsing for Healthy Homes is written by husband and wife, Roy and Ann Procter. They discuss the effects of geopathic stress and how dowsing can be used to detect, diagnose and heal it. It was reading this book that prompted me to have my house 'healed' by a dowser when I bought it back in 2002 and I later went on to qualify in dowsing, both for health and space clearing. I was hugely disappointed that Roy and Ann Procter were no longer teaching at that point, but I found good courses nonetheless and I continue to find the subject of 'healing sick houses' fascinating, especially now that I am combining it with my study of Shamanism.
The Four Agreements by don Miguel Ruiz was recommended to me by the instructor of a meditation course I took some years back and I went on to read another of his books, The Mastery of Love, too.
In The Tao of Pooh & The Te of Piglet, Benjamin Hoff explains Taoism and Te through Pooh's approach to life. The complex concepts of an ancient and remote philosophy become accessible, relevant, relatable… and fun!
Straight from the Horse's Mouth by Amelia Kinkade is such a lovely book. Amelia communicates with animals and teaches us how we can do the same with our own pets. I would love to be able to talk to Barley (my gorgeous working cocker) but so far I haven't succeeded beyond the stage of being unsure if it's just my own imagination. I inquired years ago about a private reading for Barley but was told Amelia wasn't offering that service anymore, but I've just had another peek at her website and seen that private readings are now available again. They're pretty pricey though – £250 for an hour in England. Can I justify that expense? 😕
It was Louise Hay's book You Can Heal Your Life that first introduced me to using positive affirmations way back when. I have a copy of the 'gift edition' which is gorgeously illustrated.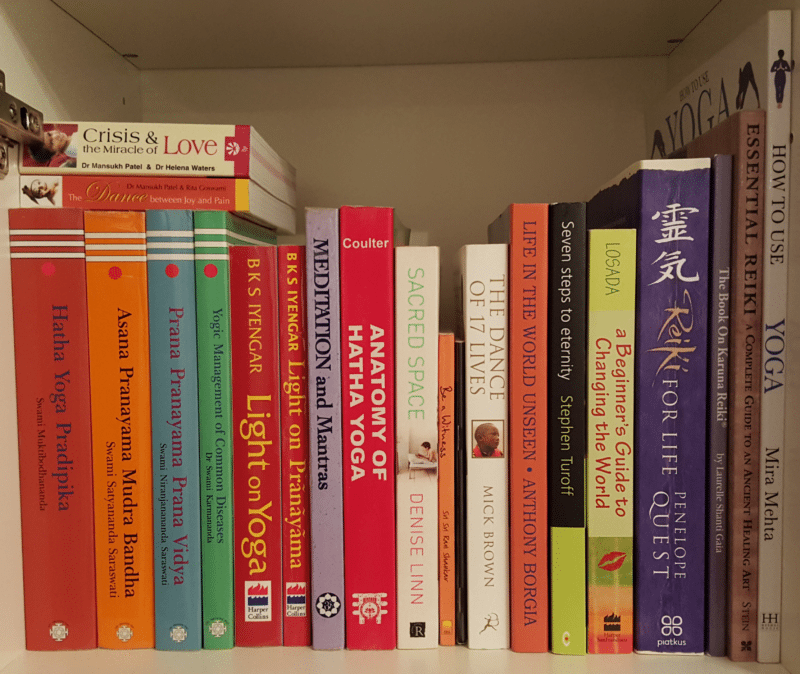 Surfing on top of the other books are two more books from the Life Foundation: Crisis & the Miracle of Love by Dr. Mansukh Patel and Dr. Helena Waters and The Dance Between Joy and Pain by Dr. Mansukh Patel and Rita Goswami – all names I know well and who have been a part of my journey with Dru Yoga. These are lovely books which can be dipped into as needed, kind of like a toolbox for life.
Underneath, I have a collection of yoga books, all of which are classics and will be well known to any student of yoga: Hatha Yoga Pradipika, Asana Pranayama Mudra Bandha, Prana Pranayama Prana Vidya, Yogic Management of Common Diseases, Light on Yoga, Light on Pranayama, Meditation and Mantras and Anatomy of Hatha Yoga. I purchased all of these books in India where the price was a fraction of their cost in the UK. Some of them are certainly less glossily presented than their English counterparts, but the contents are just the same.
In Sacred Space, Denise Linn draws on her Cherokee Indian heritage to teach us how to turn our homes into sanctuaries which radiate positive energy. She incorporates, Feng Shui, Shamanism, sound and much, much more. This book is absolutely packed with practical tips and information. I started making a note of page numbers with ideas to return to, but at some points I was having to just list whole chapters!
Life in the World Unseen was recommended to me by a psychic medium who ran a psychic development group that I used to attend. She said this book, more than any others that she had read, described best how she understood the spirit world to be through her experiences as a psychic. In the book, the deceased Monsignor Robert Hugh (son of a former Archbishop of Canterbury) recounts his experiences of the afterlife through the medium Anthony Borgia. Sequels to this book can be difficult to get hold of but can be downloaded free using these links: More About Life in the World Unseen, More Light, Facts, Heaven and Earth.
Seven Steps to Eternity is another story of one man's journey into the afterlife. This time, clairvoyant Stephen Turoff tells the story as spoken to him by James Legett, a young soldier who was killed in World War 1.
It was reading For Tibet, with Love: A Beginner's Guide to Changing the World by Isabel Losada that inspired me to undertake a charity trek in the Indian Himalayas in 2008 (during which I was lucky enough to see the Dalai Lama himself). The book is as funny and engaging as any 'chick-lit' title, but is also uplifting, intellectual and thought-provoking. I guarantee that Isabel Losada will convince you that you can make a difference and will inspire you to change the world.
I studied Karuna Reiki in 2015, becoming a Karuna Reiki Master, and these two books were the ones recommended to me by the Reiki Master who taught me: Reiki for Life by Penelope Quest and The Book on Karuna Reiki by Laurelle Shanti Gaia and William Lee Rand.
Essential Reiki by Diane Stein was another book recommended to me by the Reiki Master who I did my Usui Reiki Masters course with. Diane Stein reveals full details of all three Reiki degrees, information which had previously been kept highly secret in the West.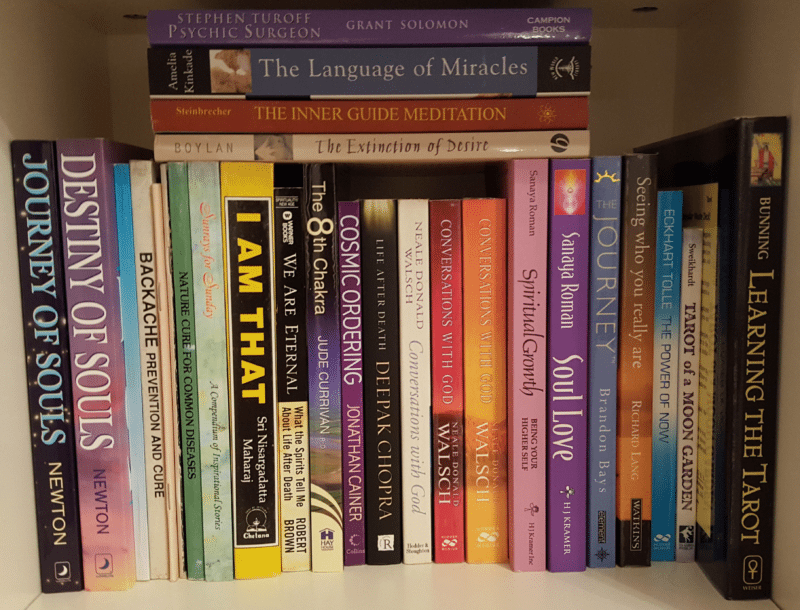 Stephen Turoff is a psychic surgeon based in Essex in the UK. My mum and I have visited his clinic for healing a number of times and his clinics are always very busy, with people traveling from all over the world for healing. In Stephen Turoff, Psychic Surgeon, Grant Solomon tells Stephen Turoff's life story and the development of his healing work.
Michael Newton is a hypnotherapist who regresses people not to their past lives, but to their life between lives. Absolutely fascinating! I've read his first book, Journey of Souls, but I haven't yet read Destiny of Souls. The Newton Institute trains hypnotherapists in Life Between Lives Hypnotherapy and there are a number of practitioners in the UK so I intend to give it a try. It must be an absolutely life-changing experience!
Also on this shelf are another collection of books that I bought whilst staying at Sai Baba's ashram in India, including Sunrays for Sunday which is a compendium of inspirational stories that will appeal to all ages.
Conversations with God by Neale Donald Walsch is an absolute classic, isn't it? I read it so long ago that I have forgotten much of the content (despite re-reading it about 10 years ago when I bought Book 2 and Book 3) so I'm sure I'll gain a lot from reading them all again.
I can definitely recommend Sanaya Roman's books. She channels a nonphysical entity named Orin who is a wise and gentle spiritual teacher, and Sanaya Roman delivers Orin's wisdom to us through her books and audio courses. I have read Spiritual Growth and Soul Love, but I'm keen to read her other books and I've been meaning to purchase some of her audio courses but there are so, so many to choose from that I never get past the stage of trying to decide! Sanaya Roman has also worked with an Angelic being called Thaddeus to create a line of meditation music which you can listen to samples of here.
In Seeing Who You Really Are, Richard Lang presents to us our true identity, not as a mind-blowing text but as a series of exercises that enable us to discover the truth for ourselves. Around the time that the book was published, I attended a free workshop that he held in London (at his house, I think). It took a lot of getting my head around the exercises but by the end of the workshop I was starting to get it. I see that he is now offering a free e-course which I'm sure would be worth checking out.
Learning the Tarot by Joan Bunning is probably the best book for anyone interested in the subject. I took her free Tarot for Beginners course some years back (which was excellent) and she also offers another online course that I would like to do at some stage. (So many interesting things to learn and too little time…)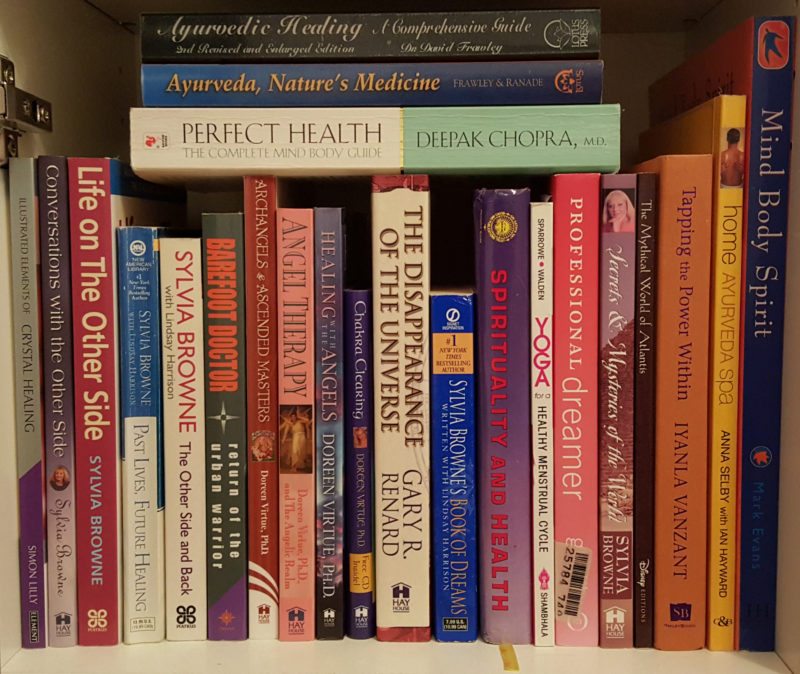 Conversations with the Other Side, Life on the Other Side and The Other Side and Back, all by Sylvia Browne, all describe… you've guessed it… life on the other side. Her descriptions of the spirit world are easy to read and comforting. These books are ideal for gifting to someone going through a bereavement and they are a great starting point if you haven't read any books about life in the spirit world before.
Doreen Virtue writes superbly and is an expert on all things pertaining to Angels, Archangels and Ascended Masters. I have four of her books in paperback format so far: Archangels and Ascended Masters, Angel Therapy, Healing with the Angels and Chakra Clearing.
Perfect Health by Deepak Chopra and Home Ayurveda Spa by Anna Selby are two of the three books I recommend to anyone wanting to learn more about ayurveda. The third is Perfect Balance by Vaidya Atreya Smith but you won't see that on the shelf as my mum is currently borrowing it.