(This post contains affiliate links.) Newsflash! There has been quite a leap in my yoga journey; I have signed up to the Dru Meditation Teacher Training Course!
I attended a taster day on Saturday, primarily to get the CPD hours to renew my membership to the Dru Professional Network, but also out of curiosity because it had long been on my list of courses that I would love to do when I have the money and time. Did I intend to sign up for the course? No! Could I afford to sign up for the course? No! How long did it take me to sign up for the course? Oh, about 2 hours! After enjoying some lovely Dru activations and relaxation and feeling at home back in the Dru 'fold' I was almost sold, but then learning the Prana Kriyas clinched the deal. I felt the magic! I have since taught them to my mum and I am so happy that she feels the magic too and is as excited about the course as I am.
With Dru Yoga Online offering a 2 month free trial there's nothing stopping you from experiencing the Prana Kriyas for yourself!
I am going to use this opportunity to treat myself to some goodies! So, here we go with a list of the products I'll be investing in to help me through the course: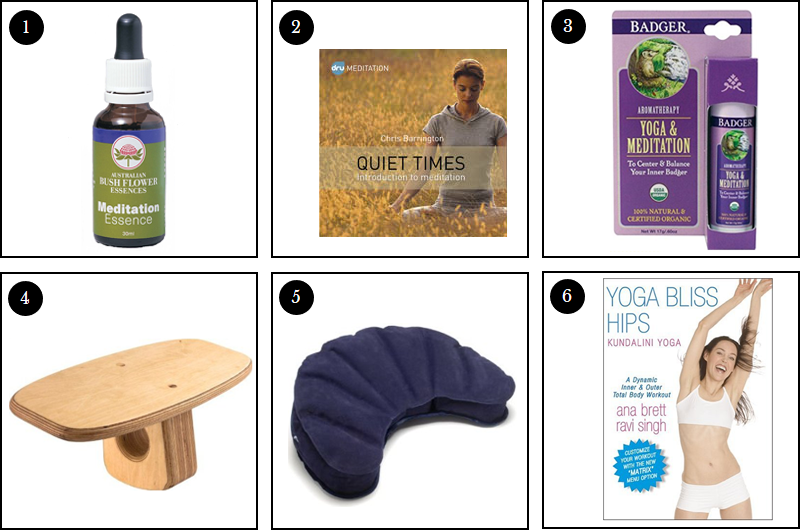 Australian Bush Flower Essences, Meditation Essence – I have used some of the other Australian Bush Flower Essences in the past and absolutely love them. This Meditation Essence is highly recommended for anyone practicing meditation. It awakens one's spirituality, enhances intuition and allows one to go deeper into meditation or spiritual practice. It enhances access to the Higher Self whilst providing psychic protection and healing of the aura.

Dru Guided Meditation CDs – I have owned Dru's Chakra Dharanam Part 1 and Chakra Dharanam Part 2 CDs since I undertook my Dru Yoga Teacher Training (which feels like many moons ago now) and they really are fantastic. I can't recommend them highly enough! Now that I'm undertaking the Dru Meditation Teacher Training I have the perfect excuse to invest in two of their other meditation CDs: Meditations on Light and Quiet Times.

Badger Balm Yoga & Meditation Mind Balm – I'm a big fan of Badger's range of balms which are all 100% natural and organic. This Yoga & Meditation Mind Balm is designed to be rubbed onto wrists, temples and forehead to soften and smooth the skin whilst balancing the psyche and supporting meditation practice. The sophisticated essential oil blend used in the balm works to bring a deep rooted centering and grounding experience, essential to the practice of Yoga and Meditation. The scents of Sandalwood, Frankincense, and Myrrh are used in both Eastern and Western traditions to support the practice of meditation by inspiring a mood of reverence and calm centeredness. Cedarwood sharpens the mind, and the citrus essential oils of Mandarin and Litsea Cubeba create a cheerful state of peaceful awareness.

CalmingBreath Toadstool Meditation Stool – I'm really keen to find a comfortable sitting position as that has long been my main stumbling block to progressing with meditation. My research online has led me to discover the CalmingBreath Toadstool Meditation Stool which seems to tick all the boxes and gets some great reviews. The single curved leg allows you to "rock" into perfect balance, fine tuning your posture for maximum comfort. The angled seat automatically aligns your pelvis, relieving pressure on the lower back & knees. The neck, shoulders and upper back naturally settle into a good posture for calm, alert meditation. They say it is almost impossible to slump! One customer writes, "The stool takes the majority of your weight and so you are in the kneeling position with no weight from your upper body on your legs. This position prevents pins and needles in your legs and feet, and makes the upper part of your body feel like it is floating on air."

Mobile Meditator Inflatable Meditation Cushion and Travel Pillow – Whilst the CalmingBreath Toadstool Meditation Stool sounds ideal for home use I am currently living out of a suitcase for a couple of days a week and need something more portable for those days. The Mobile Meditator Inflatable Meditation Cushion seems to be the ideal solution.

Yoga Bliss Hips DVD – This one is a little bit of a cheat as I already own it! However, the need to sit cross-legged for extended periods of time on the Mobile Meditator Inflatable Meditation Cushion will mean I need to spend more time on hip opening yoga – never a bad thing – and I'll be dusting off this DVD. I really loved it anyway and I don't know how I'd come to forget it!
Last but not least, this beautiful statue of Ganesh is in the yoga studio at The Light Centre where the Dru Meditation Teacher Training Course is held. I absolutely L-O-V-E it. I've seen many beautiful statues of Ganesh on my travels, but this one tops them all. If anyone knows where I can buy one just like this, please do tell!