(This post contains affiliate links.) I've been meaning to buy a Yantra Mat since I first tried one at The Yoga Show a few years ago, but when I saw them on sale for just £9.99 (RRP £39.99) in Holland & Barrett a few days ago I snapped one up – a lovely purple one! 🙂
The Yantra Mat works on the principle of acupressure and consists of 8,820 acupressure contact points. It is claimed that using the mat for 20 minutes per day may help to relieve stress, give you a good night's sleep, boost energy levels and relieve aches and pains.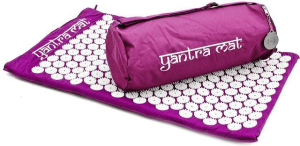 The Yantra Mat claims to be…
"…for anyone who wants to have more energy and increase their wellbeing. If you're suffering from stress, having difficulty sleeping, are low in energy, experiencing muscle tension, stiffness, headache, back or neck pain, or you simply need a better and more complete rest, then the Yantra Mat could be for you."
So far, I'm absolutely loving the Yantra Mat! However, having tried just lying on the mat, I now want to try some of the more dynamic stretches seen on the YouTube video. After a quick search on the internet, I discovered 'The Yantra Technique' – a 45 minute routine devised by yoga and acupressure therapist Tracey Wilkinson exclusively for the Yantra Mat. 'The Yantra Technique' focuses on breathing to calm the mind, physical poses to strengthen core muscles and relaxation to improve overall wellbeing. The routine works on the principles of acupressure by promoting the release of 'endorphins' and 'oxytocin' – the body's natural painkilling hormones – to reduce stress and relieve feelings of fatigue.
Click here to download a PDF file giving details of 'The Yantra Technique' routine. I'm off to give it a try…
If you miss the deal at Holland & Barrett, then I believe the best price is normally through Amazon where they are currently £26.51. Click here to buy a Yantra Mat now.