It was through Kristina Braly's YouTube channel – which I first discovered through my love of all things planner-related and have been following for a few years – that I first heard the story of her brother Erik's suicide and how their mother (Dr Elisa Medhus) has been channeling Erik through various mediums.
The Channeling Erik YouTube channel includes footage of many of these conversations with Erik, where he speaks about death, the afterlife and so much more. These videos are definitely worth watching!
Dr Elisa Medhus also shares her journey towards spiritual understanding in her book, My Son and the Afterlife: Conversations from the Other Side and Erik himself has authored his own book, My Life After Death: A Memoir from Heaven.
In the following video, Dr Elisa Medhus is interviewed on The Moore Show and Erik speaks through the medium Jamie Butler:
There are a couple of quotes from the video that I would like to highlight. The first quote is from Erik, speaking through medium Jamie Butler, and emphasizes the power of laughter – and it seems that it really is 'the best medicine':
Erik says when people ask him, "How can I start this? How can I get out of my head? How can I feel better? I'm depressed. I'm on this medication. I'm struggling…" A lot of times I'm not throwing them into another bottle of medication or a quick fix. I'm telling them, "Who's your favourite comedian? OK, well, go buy a podcast of them, go watch them, go find your laughter. Use it like a meditation source, because laughter aligns all the energy in the body so they can vibrate higher and then you can perceive that subtle light energy, and then you can collect that information that's universally available to everyone. And when you get into that kind of information, all of a sudden that humanness, that structure that weighs heavy on our head, that creates a burden on our shoulders – it can't exist. It just can't exist!"
The second quote I would like to highlight is a comment made by Dr Elisa Medhus:
…you have to really change your vibrational frequency in order to channel well… Erik says that listening to binaural beats between 14 and 16 Hz, with earphones on, really can help you channel from the beyond. I've tried it and all of a sudden I had incoming from everybody, you know, my deceased sister, my mother, Erik. So, there's something about changing your energetic frequency.
Needless to say, as soon as I heard that, I tried it. And… nothing. Perhaps it takes time.

This month I attended the final day of the 'Sacred Sound and Vocal Toning Teacher Training' course which I have been studying with Anne Malone. I have loved the course so much that it was really sad to see it come to an end – although it's not really the end as Anne will be organizing regular monthly get-togethers for us and there will be opportunities to assist Anne and further our learning.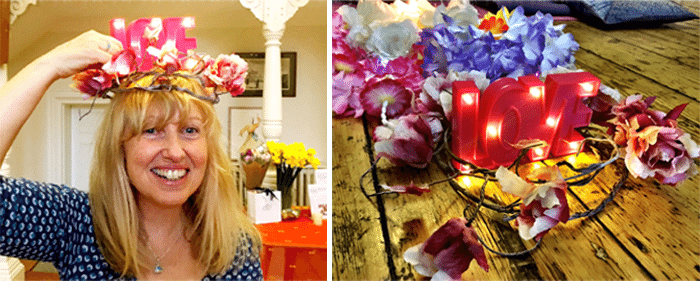 The course was simply awesome! Anne is such a lovely soul who is an inspiration and her enthusiasm is contagious. The course content was everything I wanted (and more), but the course days were never anything other than enjoyable. There was no pressure or stress. Instead, Anne continuously empowered every one of us, regardless of our wildly differing abilities. The course exceeded my expectations in every way and has left me feeling confident to put the amazing new knowledge and skills into practice right away. But more than that, I have gained an inner joy and friendships. Thank you so much Anne!

In some Russian and Ukranian schools, when temperatures drop below freezing, an old Siberian technique is used to boost health and stamina and combat against colds and the flu:

My mum and I have done a lot of guided meditations over the years, but this month we stumbled on a really good one – by one of my favourite online yoga teachers, Juliana from Boho Beautiful. We loved the meditation so much that we have been listening to it most days since!

Lastly for this month – and I'm a little late to the party here, I know – but I've just come across the debate into whether the Earth could actually be flat!! Now, I'm all for a good conspiracy theory and I do believe that there is a lot we are not being told and that what we are told is often purposely misleading in order to control us like puppets on a string… but whether this particular theory is correct and the Earth is actually flat – I'm honestly not sure what to think. These are two of the best videos that I have found on the subject:
What do you think? Please comment below and let me know your thoughts.