Having been a Usui Reiki Master for many years now, last month I felt drawn to learn Karuna Reiki® and started my journey towards becoming a Karuna Reiki® Master with a fantastic tutor, Aki Lalani. Aki is a medical doctor and was also in the British Army. I related to him straight away and loved his style of teaching, which involved 1:1 tuition throughout. As someone who is very quiet and sinks to the back of any group, this was ideal for me.
I am very happy to report that, for the first time, I am confident in my Reiki abilities and I can now feel the Reiki energy for myself – massively! – rather than having to rely of my patients for feedback. I'd never actually felt anything from Reiki before (although my patients had certainly felt the benefit of it), so this has transformed my view of Reiki and of my abilities. I did some healing for Aki as part of the course and received some fantastic feedback from him.
Overall, it has really boosted my confidence. I am loving the energy of Karuna Reiki® and have been using it a fair bit this month. I feel so much energy from the new symbols! I just can't get enough of it. The shift I have experienced through learning Karuna Reiki® has been life-changing.

This beautiful statue of Ganesh is in the yoga studio at The Light Centre where my Dru Meditation Teacher Training Course is held. I absolutely L-O-V-E it. I've seen many beautiful statues of Ganesh on my travels, but this one tops them all. If anyone knows where I can buy one just like this, please do tell!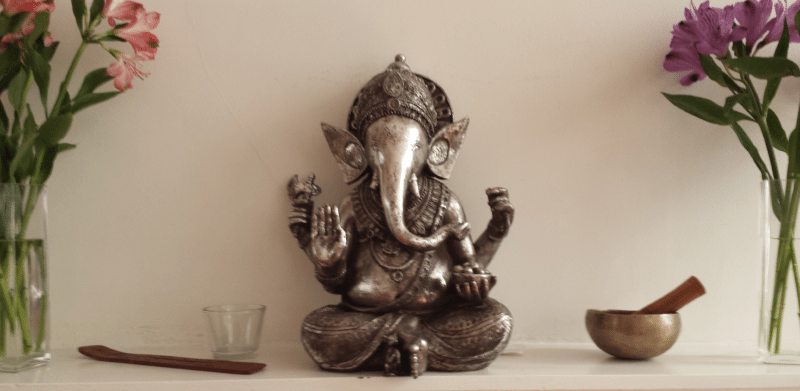 The latter half of August has been very busy for my private physiotherapy practice. I provide assessments for children with coordination difficulties which can assist in providing a diagnosis of Developmental Coordination Disorder (DCD), more commonly known as dyspraxia in the UK. As usual, there has been a rush of last-minute requests from parents before the new school year starts. I've struggled to keep up with writing the reports, but I really enjoy doing the assessments and I've been focusing on my gratitude for the extra income.